2 January 2005, Sunday
Episode XXIV : Swansong for a Season
A happy 2005 to all readers! Even as you are reading this, I invite you, if you are so inclined, to say a little prayer with me for the victims of the recent tsunamis.

I also hope that all well meaning S'poreans will now direct their generous hearts and wallets to help the relief of these people, and not to the too many on-going charity events that seem to populate our tiny abeit sheltered island.

On the blogging front, yes this is the last episode, in the sense that I am abandoning this format to a less stylo milo one. So there may not be a Season 2, and the web page may undergo a face lift in the near future. Why am I doing all this? Well, why not? :P

BTW, this is gonna be a long entry, as its kinda a goodblye, and I do believe in saying goodbye properly. So go take a leak, grab a drink, and turn on your favourite music. You are gonna be here for a while.

Re-collecting

Recently, I have just finished filming a 30 min short film for a bunch of NTU CS students, for their FYP. This makes it the third short film I have been in, and its nice to know that the films keep getting longer. If this trend continues on, my next film will be a ... OMG ... 1 hr feature!

Well, one can always hope, right?

Even as my short films can longer, my eyebags do seem to grow heavier. That is one trend I definitely hope it doesn't continue. But I think my heavier eyebags are caused by doing two overnight shoots in a row and having the next shoot in the afternoon the next day.

I think all this lack of sleep must have made me very weird and scary, coz I begin to clown so much that the director kept calling me by my nick, "R u ok? R u ok?"

She must have liked the nickname immensely, for she kept uisng it time and time again after that. I did wonder how she knew about it though....

On second thoughts, maybe she really wanted to know if I was really "ok" .... hmm ....

Anyway, here's some pics from "The Collector"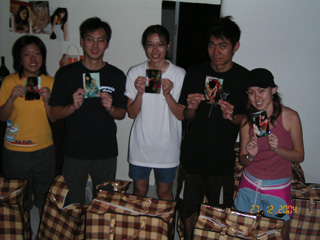 L to R : Kheng Hui, Jeremy, Wan Cheng, Adrian and Fion (Hope I spelt correctly)

The china bags you see on the floor are actually used to contain corpses. The pictures that they are holding up are actually the victims.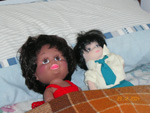 One of the character in the story collects these Chucky lookalike dolls and sleeps with them. These dolls are actually from Fion, the director.....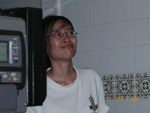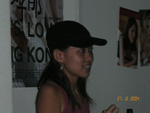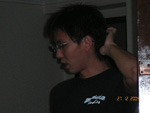 Some errm candid shots. The wilder ones will remian private to protect the innocence of the production team and my readers ;)

On a particular note, I found out I was selected for the lead role based on my audition and not my show reel. They felt I looked like I was the sort that could be psychotic during my audition .... and I wasn't even trying to look psychotic?!

This could very well explains why all the time when I went for goody two shoes roles I DON'T get it.... Fion was saying that even though I do look decent in RL, on camera I seem to take on a more sinister bent....

If this is true, I think I will forever be typecast as a baddie :(

That aside, it was an enjoyable shoot on the whole despite me almost breaking my back, and I hope these guys get a good score for this project. Keep up the faith guys!

(P.S. Loved ya chocs, Fion :D )

Resolving resolutions

To sum it up in one sentence, 2004 started with a big bang for me, and then slowly dwindled down towards the end of the year. While I had cool roles coming on to screen in the beginning of 2004, that don't seem to be the case for 2005 so far.

I do have an episode of Sci Guy PI coming on, as well as a forgettable role in Police and Thief and Rogue. I have another TCS 8 production in the works, but I have yet to find out how cool that role will be.

But all in all, I think 2004 wasn't half bad, and I hope 2005 will be better. (Doesn't everyone? heh)

My New Year resolution is the one resolution I will keep and that is I resolve not to make any resolutions. Which if you ponder over it, is a rather interesting paradox.
Pull you ear! |
25 December 2004, Saturday
Episode XXIII : Eat, Drink & Be Merry
Wishing all visitors a Merry Christmas. And while you are making merry this Christmas, help yourself to a good New Year too.

I have started on my first half-an hour short film, and will be working later tonight on it. More details will follow, so stay tuned. And if you are reading this on Saturday, why are you staying at home on Christmas?

Go eat, drink and be merry.
Merry your Christmas and Happy your New Year! |
1 December 2004, Wednesday
Episode XXII : In Their World Now
Hi everyone! Miss me? Guess not :P Anyway, I've been busy the past few days with boring work stuff during the day and EQ2 at night.

In between I also managed to squeeze in an episode or two of Tian Long Ba Bu, which features some nice looking eye candy.

I am blogging now because the server is down and I thought, what the heck, I should come and update this blog even though I know not many people are reading it.

Why update then? Coz you, who are reading it, are special, and I always want to do nice things to people whom I think are special.

Recently, there are many debates about Chinese language and having a casino in S'pore. I had actually wanted to write a nice blog about what I thought about these two issues.

But since EQ2 has been dictating my free time, I can only afford to give the summarised version.

Firstly, the casino. I think it is pointless to debate further, for it seems they are already building it. Been to Sentosa lately? Have you not missed the on-going construction? I am willing to bet that it is for future casino(s).

Secondly, the second language. I, too, struggle with CL before. I remember going into a SAP school, telling the principal that I want to take CL2 instead. He brought the bunch of us 'rebels' to his office and asked us to re-consider, as he will arrange remedial classes for us to brush up our chinese.

He then asked an indian student who was with us if he is willing to try. The student said yes, and the principal said to us,"If HE is taking CL1, I don't see why you all should take CL2."

I end up studying the hardest for this subject during my O levels, and getting the worst grade amongst all my subjects for it. I got a B4.

How's my language proficiency now? Well, I basically ignored the language after my O levels, so you can imagine that its really bad right now. I hope the new system works for the younger generation.

I like it that MM now tells the parents not to blame the government and that its their responsibility now to plan how their kids will turn out. So if their sons and daughters become non chinese-speaking gamblers next time, don't blame the government hor.

EQ2 is a very puzzling game. When I first got the game, I thought I would be a casual player and not spend too much thought into it. But because I didn't get the game during the long weekend period due to some overseas shipping delays, I end up reading up sites to get more info on it.

Ignorance is bliss. Because of my knowledge, I end up spending one week on a newbie island getting my artisan skills up and collecting 10 rare books out of a possible 12. If you think thats normal, well, I was supposed to be a fighter, not some craftsman :P

So while Knowledge is Power, Ignorance is Bliss. I would rather have Luck over all this though. Then I can have the things that I should have with Knowledge, but since I got it through Luck and I didn't know better, I would be blissfully ignorant of what I have or don't have.

If you don't understand the above, its ok. Remember, ignorance is bliss!

As a parting note, please check this out, and go vote for your favourite! Support the budding local film industry!

(No, I'm not in it. But my friend Serena is :D )
Want to be blissfully ignorant or painfully aware? |
22 November 2004, Monday
Episode XXI : Getting Lucky
Went to the Maxim launch party last Thursday and errm, got lucky.

I was there with Adrian who as we made our way there, asked why I didn't ask a girl to the party.

Errm, coz its a party for guys?

Having said that, we were however surprised by the number of ladies that did went there. Adrain was asking me if are all these ladies were subscribers as well. I guess it is kinda weird for women to subscribe to a man's magazine huh? But then again, I know of girls who would borrow their boyfriend's FHM to read, so maybe its really not so weird for women to subscribe to men's magazine....

Anyway, the party had a casino theme and so there were tables for you to gamble away the few chips they gave you when you entered the party. There was also quite a number of girls doing bar top dancing, which I guess was supposed to soothe the losers at the tables.

I, for one, will never understand the seemingly national obsession with bar top dancing. Sure, some of the girls looked sexy while dancing. But I'd rather dance with them instead of watching, if you know what I mean. And if bar top dancing was supposed to be a symbol of creative freedom, frankly I don't think standing around and watching is gonna improve my creativity. Make me horny, perhaps. Make me creative, I don't think so.

Come to think of it, in a warped sense, maybe its just the Government way of promoting better birth rates :P

Anyway, the highlight of the party, besides me getting lucky, was a short stand up routine by Kumar. He had everyone in stitches, despite insulting some people here and there. I think S'poreans really have a great capactiy to laugh at themselves.

He too was harping about sex and how everyone should do it after the party. If i didn't know better, I would say that even Kumar was roped in to help the low birth rate situation. So, I would like to do my part and say that if you are reading this, please go have sex after reading this entry. Make love and not anything else!

They had the usual lucky draw after that, and this month's cover girl, Marilyn was on stage to give out the prizes. She looked very much sweeter in person, and seemed a little shy. I guess if a picture of my bikini clad body was on the many walls in Double O, I would be shy as well.

Winners were asked to say their IC numbers to her to verify that they indeed were the winners. The strange thing was when it came to my turn, she didn't asked me for my IC number.

She asked what I do for a living instead. And then she asked what was I gonna do with the digi cam that I have won. I told her that I was gonna take pictures of her, and she looked a little embarrassed by my answer.

Why, did I say something wrong?

The camera I won was a Kyocera SLR 300, with 3.2 megalpixels and 3x Optical Zoom and 2x Digital Zoom. It's very slim and cool looking hor?

I think this was the first time I ever won anything in a lucky draw. Hopefully, my lucky streak will continue. In case it does, I will be entering more lucky draws and wait for more good things to happen to me.

And yes, I was referring to this when I said I got lucky. What were you thinking?
Take picture with me! » |
10 November 2004, Wednesday
Episode XX : See Sepet
Finally caught the Malaysian movie, Sepet, that has been getting rave reviews. I must say it is excellent. A good movie should always make you laugh and cry with it, and there are very few movies that can do that nowadays. This is what Sepet does, and frankly I am very surprised that our neighbours have produced such a gem. On a shoe string budget somemore.

Don't get me wrong, I'm not short changing our neighbours lah. But seriously, when was the last time you watched a good Malaysian English movie? Like don't have right? So can't really blame me for being so surprised what.

Sepet is a love story that is told so simply and shot so simply, its great. I like the way the opening credits rolled, horizontally instead of vertically, and was shown as being written on a piece of paper.

I would like to know the actual length of the paper used man.

Of course theres more than just opening credits lah. The plot, for instance, although simple, manages to really immerse the audience into the ethnic background of the story. And it does it so subtly, it doesn't bore the audience. In fact, it makes the audience feel more attuned to the characters.

And the characters seem real too. Interestingly, their dialogue is somewhat Singlish in a way, as they also mix Malay and Cantonese into their conversation in English much like we do here back home. And the effect is that their conversation seems so much more realistic.

I think local films should really take a leaf out of this page. I think for far too long we have outlawed Singlish in our scripts, and the fact is our scripted conversation more often than not don't sound like our everyday conversation at all.

But I noticed with interest that the Malaysian version of the movie will prolly be very different from the "Director's Cut" that I just watched as there will be certain cuts made. It will be interesting to know if our neighbours also frown upon the use of "Singlish", hehehe.

So, guys, go watch the movie before it comes out on video or DVD in case its the censored version. I am not sure how long the run is still gonna be on, but I know you will be sorry if you missed it.
Bah, I don't have sepet » |
1 November 2004, Monday
Episode XIX : What makes us truly S'porean
Today, in the midst of the first November rain, I finally figure out what makes S'porean tick. Chey, big deal, you say. I also know, its kiasuism right?

No, I'm afraid not. Two years back, while I was in New York, I found out that being kiasu isn't really a S'porean thing. Its actually quite a global, if not an American thingy as well.

I discovered this while queuing for cheap tickets at TKTS. TKTS stands for some theatre thingy which I can't remember now, but they will offer hugely discounted tickets (as much as 50%) to some of the shows in Broadway.

Being the typical kiasu S'porean, I went to queue for the tickets some TWO hours before TKTS open on a week day. To my surprise there was already a long line at the queue. The line was so long that I had to wait another hour and a half before my turn came. Thats how long the line was. And thats how I found out that there are other nationalities who are just as kiasu, if not more kiasu than S'poreans.

There are other examples as well : Cinemas in US are free seating. So if you get there late, you will get all the lousy seats. Again me and my friends went one hour earlier but there was already a long line of people queuing for the seats.

So if its not kiasuism, then what is it? I think is the desire to look for short cuts. We look for short cuts all the time.

Like when we walk or drive, we always want to know what is the shortest way. "This way! I know a short cut!"

Like when we study for exams, we always try to spot questions. "This question sure come out wan! Better memorise the answer!"

And like when we talk, we always use lapsed into Singlish.

Yes, we actually devise Singlish because of our love for taking short cuts. For example, instead of saying "Switch on the light", we say "On the light". Saving the need to say "switch".

Another example would be "watch tv", as opposed to "watch a television programme".

Or "See what see?", as opposed to "Whatever are you looking at?"

Or "Lets buy a flat together", as opposed to "Darling, you are the love of my life. I cannot live without you, nor can I afford a 5 room flat/condo/apartment and still drive a car without your income. Will you please marry me?"

I am sure you can find many of such instances where we have summarize proper English sentences to produce the Singlish effect.

Our love of short cuts is also why SMS is so popular here. Wth SMS u cn evn cut short the spellg somemore.

And you can see our love of short cuts in censorship too. Wah you see the movie so long, cannot! Must cut! *snip* *snip*

The positive side of this trait means we are actually a creative and highly efficient bunch, getting more things done in the least possible time, always thinking of better ways to do things. Which means our productivity is BERI good.

The negative side is that we become lazy, always do the bare minimum can already. This may also lead to greediness, so we ply the TOTO booth everytime the draw is at least $1m in prize money and subject ourselves to falling prey to get-rich-quick scams.

So how did I came up with this in the midst of the rain? I was looking for a short cut to the nearest shelter lor.
Agree or not? |
29 October 2004, Friday
Episode XVIII : To Do Much About Nothing
Somehow, strangely, I am suffering from the after-effects of reservist even more strongly than I thought. I have for the past few days, been in a perpetual state of zombiness. I know I have not done much the last few weeks, but I haven't been lazing around either. Yet somehow I can't account for the time gone nor give myself a rational explanation on where all the time have gone.

Its like I have been to the twilight zone and back. Only without the eerie music. (Which coincidentally will make a cool ringtone) And without the haunting narration. ("Imagine a place .... sheesh, I forgot the rest of the lines :P )

While trying to figure out what happened to my lost time and trying to decide what I would do with it if I ever found it, I have been told by some well meaning friends that my past few blogs have been very distasteful. And that it makes me sound like I'm some perverted desperate guy.

Errm, which ones har? If YOU happen to think so too, can you please tell me which blog(s) is it?

I want to know coz I really am not a desperate perverted guy. And I want to know what is it about me that makes people feel that way. Can be very useful for my acting you know.

Anyway, October has been a bad month for me. And I am glad its coming to an end. Not too sure how November will hold up, but I kinda think it cannot be much worse than October.

*Prays hopefully*
to-do-to-do-to-do-too-do-to-do » |
18 October 2004, Monday (posted on 21 Oct coz I have been lazy)
Episode XVII : Much Ado About Nothing
I think I have finally completed my civilian conversion course (CCC). It was longer than I expected, but then again, the ICT was more siong than expected. Either that or I am really getting old.

A big part of my CCC came from playing computer games. Yeah, pathetic isn't it? But with my aching back and wobbly knees, I really don't fancy a night clubbing and partying in town. And I know the ladies will not fancy a slouching limping lounge lizard as well.

So for the better part of last week, my Iullaby was Kohan 2, War Of Kings. This week, its this game called Evil Genius. Waiting in the wings are Warhammer 40k and Rome : Total War. So many games, so little time. Oh yes, there's Sims 2 too.

Talking about Sims 2, my friend Serena went and made a whole neighborhood of us friends to play with. Powah huh? My only gripe is that the character in the neighborhood that played me is supposed to be a Casanova.

Me?! A Cassanova? I wonder what gave her the idea. I mean having lots of crushes on beautiful babes surely does not warrant such a surly tag right?

So with that many games waiting to be ravished by me, I do not fancy joining my friends for EQ2 this time round. I fear if I do, I will never get around to finishing these games. But the lure of MMORPG have always been difficult to ignore. I wonder if I can resist this time round….

I am also suddenly 'jobless' after my ICT. My clients has postponed some of the jobs I have scheduled for this period, and I have nothing on the acting front so far as well.

No food for the stomach and no food for the soul. What's a starving man gonna do?

Seeking solace in the company of babes sounds like a good idea. Speaking of babes, one of the actress I got to know a bit while filming Rogue made the cover of this month's Maxim.


And I have this major crush on her.

(At this point, I know Serena will feel justified in calling me a Casanova. But I beg to differ lor. I feel I am more Don Juan. :P )

I know I will never forget how in the wee hours of a Sunday morning she helped me on my salsa moves. I was practicing my reverse simple turn, and I think my hapless flailing of arms must have aroused her......sympathy.

She came over and asked me if I was dancing. I told her I was practicing my salsa and then she volunteered to help me out, even though she didn't know salsa. She told me that she actually has lots of dance background, so if I tell her what I am trying to achieve she maybe able to help me figure it out. (Sometimes I wonder if I had told her there and then that what I am trying to achieve was to catch her attention, how things would have turned out then). So we went through the move a couple of times and then I proceeded to teach her the errm finer points of salsa.

Or in my case, it should be the coarser points of salsa.

I didn't get very far b4 we were interrupted by another actress's uncle who was too kaypoh for his own good. I mean I really don't know why he come and ka jiao us and uprooted what was to be the budding seed of romance.

Moments after that rude intrusion, we had to continue with our shoot. I didn't get a chance to talk to her after that. Or see her again.

But I actually did get to see her again.

In a subsequent shoot.

I was doing a favour for a friend who was looking for extras coz they were desperately short handed. Ok lah, I admit I took the job in hopes of seeing her again. .But alas, on the day of the shoot, I found out that she was already seeing someone else ……I can't divulge too much about this here as I want to respect her privacy.

I guess we are just not fated. And I think she must have given up on waiting for me to reappear lor. Yeah right :P

But to be honest, even if I had the chance, I don't think I would have the courage to tackle her there and then. You can say that I am actually suffering from a major dose of inferiority complex. I mean, come on! She's an established star in Vietnam ! Me? I am just a struggling actor trying to make my loose ends meet without tying a dead knot.

(I really hope I get more established soon. If not I fear my inferior complex will just grow more and more.)

Much ado about nothing indeed.
Am I a Casanova? Or Don Juan? » |
12 October 2004, Tuesday
Episode XVI : Keng King
Back from a super siong ICT. Don't know if the training was really that siong or if its just me getting older. The last ICT I had, I injured my ankle and had to go for 6 months of physiotherapy. Now, amongst other aching body parts, my ankle injury is back and I think my knee is injured too. *Sigh* I definitely won't be doing the twist anytime soon.

I guess my body's warning me that I maybe getting too old for this shit.

In a bid to soothe my aching back, me and my platoon mate decide to go look for a masseuse after the ICT. As my back was truly killing me, I told my friend I want to go to the genuinely good ones, and not those with special bundled services.

Turns out that decent massage parlors are as common as the boat series currency now. Try as we may, we couldn't find one. My friend told me that its probably because guys nowadays don't go for decent massages anymore, and hence all the decent ones have to close shop. The only other place he can think of that still has decent masseuse is in Batam.

So if my back don't get any better, it looks like a trip to Batam is on the cards.

During this ICT, most of my platoon mates found out that I am an actor. Which is a good thing, coz it means that I must be getting very decent air times such that peeps who only see me once a year can recognise me on television.

Hmm. The flip side to all this is that I am now officially the "keng" king of the platoon. Aahh, the price of fame.

Gonna end this blog now coz for some weird reason, I am feeling very tired these days. Must be post ICT trauma or something.
So got miss me not? » |