Sonso Ishere as
26 Sept 2004, Sunday
Episode XV : Xtra Vincy
My reservist is on this week, so usual programming will have to take a break for awhile. So in order to satisfy my near non existence legion of fans, I am now publishing this self-interview. so that you lovely people won't feel lonely without me these few days. Its not a good substitute, I'll admit, but hey, at least I'm trying. The timing is just nice too, as this is episode XV, which could very well stand for"Xtra Vincy"also hehehe. So without much further ado, here are the ten questions you have always wanted to ask me, but was afraid to ask. Actually, it may not really be the ten questions you ave always wanted to ask me, so its more like the ten questions I think you always wanted to ask but were afraid to. Go knock yourself out :P

Ruok : Hi Vince! Or should I call you Ruok instead?

Me : errm, either one is fine. BTW, does this count as the first question?

Ruok : Err.. I'm afraid not. Here's the first one though : Tell us a little something about yourself.

Me : Man, I hate that question. I hate it even more when they ask me that during auditions. I mean, I am a very private person you know, and what I want to reveal about myself is already in that application form, dammit. So half the time, when people ask me that question, I always feel like I am repeating myself. And I hate to repeat myself.

Ruok : Err, the other half of the time leh?

Me : The other half of the time I try to be a bit more creative lor, and come up with different self-intro messages. In fact, sometimes I even resort to converting some of my pick-up lines to use!

Ruok : Fwah! Power! Can give example?

Me : Ok, here's one that has so far manage to impress people a little bit. You know how I have these facial moles near my face and neck right?

Ruok : You have meh?!! Cannot see from your photographs leh! You photoshop them out arh?

Me : What?!! No lah!! Its not very obvious in photos lah! You can see some of them in the videos wor... I don't photoshop my photographs hor. (makes face) Anyway, like I was saying, because of my moles, I will tell people I used to be a vampire.

Ruok : Wor no wonder in ep 6 you mention something about being a "vampire".

Me : Eh, right. Coz you see I have two moles near my neck and if you think about it, they kinda look like puncture holes from far. So I tell people those are proof I was bitten by a vampire. I used to have fangs too, and the two moles you see on either side of my lips are scars left behind where the fangs used to grow. Somehow I must have mutated and not be a vampire anymore, coz now I am no longer afraid of the sun.

Ruok : Hmm... and people actually buy that?

Me : Erh, I don't think so. But I think they just think its an interesting way (I hope) of describing my facial features. Not interesting meh?

Ruok : It would depend on the delivery I guess. So I hear that you are actually an accountant by training. Why are you trying to be an actor now?

Me : I am not trying ok, I consider myself an actor. What I am trying is really to make a living out of acting. I know people think its a waste that I'm wasting my degree and professional qualification but accounting was never really my cup of tea. And I spent a good 3.5 years of my life drinking that bitter cup in order to savor as much of it as possible, to see if I can continue to stomach it. The result is now I know I don't and that my true passion lies in acting.

Ruok : So the 3.5 years have been a waste of time then?

Me : Not really. I learnt alot of stuff during these 3.5 years, and some of the shit I've been through are actually a good source of material for my acting. If I have plunged into acting straight away then, I would have missed out on all these.

Ruok : But you could have stand a better chance of breaking into the industry then, since you were younger?

Me : Yeah, but then again, the flip side is I could have not, and I would have been in a situation where I will be trying to remember what I learnt in school three years too late... Besides, I always believed that my education in school wasn't complete until I had practical experience, so I have always treated those 3.5 years as some kind of further education.

Ruok : But why did you choose to take up accountancy? Didn't your love of acting begin in the secondary school?

Me : Yeah, the acting bug bit me when I was sec 2, while preparing a skit for my ECA. At that time, there was this girl I was trying to impress, and somehow in the process, I found my other first love too. I initially wanted to take up TSD (Theatre Studies and Drama) for A Levels, but was rejected coz I took Commerce during my first 3 months in CJ. I still think the principal of VJ at that time was already plotting to put me in the commerce class. But I did pray about it at that time and it seemed that was the path the Lord wanted me to take.

Apparently, I have a flair for the subject and I did well enough to get into Accountancy, which many people from other streams were desperately trying to get in at that time. At that time when I applied, Theatre Studies in NUS wasn't up yet (if I remember correctly) so I really don't have a choice in the matter. Besides, I also thought that I was going to have an easy there and the sex ratio was also quite good.

Ruok : So did you?

Me : Well, my first year was really easy. But the sex, sadly for me was zero. Thanks for the interview!! 10 questions liow!!!

Ruok : .... ??!!

So that concludes the self-interview. Hoped you have enjoyed it. I did managed to catch Sex is Zero, so here's my little review:

Sex is Zero will remind many people of American Pie, which is hardly surprising as I think that was its intention. Its really very funny though the scene after the beginning credits may gross people out. I almost vomit too. But thankfully, not all the humour is that gross. The humour can be kinda slap stick though, and will remind you a bit of Jim Carrey/Stephen Chow. But its still quite refreshing to watch.

The movie is about this 28 year old undergrad who couldn't enter university as he was doing some military service. He falls for this girl played by the lovely Ha Ji Woon:

Hawt hor? Anyway, if you are a legs guy, you will definitely dig her. Those legs are to die for man! By the way, I just found out that she was supposed to be involved in that Korean comfort woman movie too, but it got canned due to the huge negative publicity.

Oops, back to the review. But she falls for the school hunk which I personally think looks fugly. So the movie is about how he tries to woo her and the madcap escapades of the school mates around them.

There are plenty of sex scenes but I think they are quite boring actually. And yes, in case you are wondering, you do see a bit of her in the buff, but I think she got the least exposure overall.

Overall, I liked this movie better than American Pie. I think its because the movie really makes you root for the guy here unlike in American Pie, and the characters are pretty much more interesting too. So go watch it and find out why this is a cult classic in Korea.
Don't miss me hor! » |
23 Sept 2004, Thursday
Episode XIV : Sex is Zero
I am watching a movie alone for the umpteenth time this year. And come to think of it, it has been umpteenth times for the past four years. Incidentally, it has also been four years since I had a relationship. ( Man, has it really been four years?! ) So what have I been doing these four years? I guess I was getting over her. I guess that kinda happens when you don't have closure. Not that I didn't want to. Lets just say that due to the circumstances surrounding the break, a closure wasn't possible then. I guess four years on, it has closed naturally. At least for me...So I have been watching movies alone for quite sometime now. Its not because I enjoy watching movies alone. But I have gotten used to it. I have tried asking some girls out to watch a movie with me, but I don't know why the girls that I asked somehow get the wrong idea that its more than just a casual date. Maybe its the way I asked. Or maybe asking girls to watch a movie with you cannot count as a casual, no strings attached outing. Or maybe it is, but the girls I have been asking are the type that don't categorise that as a casual outing. Sigh. I think I will never be able to figure women out, since every specimen always seems to be a different species.So my situation is this : The girls that I have asked to watch a movie before somehow get the wrong idea I am interested in them and expect a follow up phone call a few (max 3) days later. Which they don't get coz I really was not interested as I was still on the mend, and wasn't really contemplating on starting a new relationship just yet. So they become really upset with me and refuse to have anything to do with me anymore.Girls that I just met and want to ask to accompany me to watch a movie will say things like why don't we do lunch/coffee/high tea first; as if going on a movie date is like getting to third base or something like that. *Sigh* So you can see why after awhile, I kinda not ask for company anymore.I had tried to ask some guy friends for company but after a while, it just felt ... gay. I guess with all the gays coming out of their closets and everything, even if you don't initially feel like its a gay thing, the folks around you do and soon, due to osmosis or something, you start feeling what the folks around you are feeling too.... it just gets too freaky man. So I stop asking guys to watch movies with me too. I mean, I have a hard time fending off unwanted gay attention as it is already. Why just a few weeks ago, I inadvertently got hit on by a gay (and no, its not the first time) and I inadvertently passed him my name card ( I thought it was a polite thing to do and I didn't knew he was queer at that point ). He asked me out for lunch/coffee/drinks the very next day but I turned him down, saying I was very busy. I just got a sms from him a few days ago asking me to join him for lunch/dinner. AARRGGHH I think I will just plain ignore him this time and hope he gets the message. Hey, at least I am learning something from my rejections from girls, right? :P So in the end, I decide rather than missing good movies and hoping they return as rentals, I would bite the bullet and go watch movies alone. If you are inclined to try this too, do remember the following don'ts :i) Don't book a seat at lovers' lane. If there are no more available seats, forget it and come back another day. I did that once, on a crowded weekend and end up feeling like some lamp post in a red light district. Do I remember what movie I was catching? NO.ii) If possible, avoid the peak periods, so that chances of having available seats only in lovers lane will not happen.iii) Avoid sitting in the middle of an empty row, unless you wanna announce to the whole cinema you want to be alone. I hear this is an usual sight in Yangtze cineplex.Lastly, if you feel embaressed when asked how many tickets you want, just act touristy. Put on a fake accent if you have to. From what I can tell, if the ticket seller think you are a tourist, they will think its quite normal for you to be watching a movie alone. So put on that fake ang moh accent, and no weird stares will come your way.

Oops, I almost forgot. One of the movies that I have been trying to get my hands on since 2002 is finally showing now! Its a korean comedy, called "Sex is Zero". The review may not seem very good, but the clip I saw two years ago made me want to go catch it. Ok, I admit, the korean actress is damm hawt. Watch this space for a movie review soon. And yes, unless you want to watch it with me, I will prolly be watching this one alone too.
If sex is zero, what is one? » |
22 Sept 2004, Wednesday
Episode XIII : Time for a ratings check!
My website has been up one month or so now, so I thought its time for a reality check. So this blog should be quite short and boring, as opposed to the long and boring episodes you all have been reading.Before I dive straight into the nitty gritty, I would like to say that blogging has recently been in the news again, from the "What Really Matters" episode about a week ago to last week's 8 days, which also carried an article on blogging. Avid readers will no doubt point out that I kinda started the ball rolling with episode 3. So I guess that makes me some kind of a trendspotter huh? ( Dig at new V.Lo programme intended :P )

The Nitty Gritty

Before I go on, some of you may wanna help me out and read this file here which kind of explains the usage statistics that my hosting company have been supplying me with. I am not sure whether I have understood that help file correctly or not, but well, lets just say this is how my website have been faring since conception :Hits : 17,658
Files : 7,855
Pages : 2,947
Visits : 874Hmm. It looks mightily impressive isn't it? But thats probably because I listed the big numbers first, hehehe. But I seriously don't think I have 17K hits in 1 month. Because if I really do, and by looking at the amount of comments I have chalked up so far, it must mean only one thing. That my blogs are really long and boring and nobody reads them. But I guess the bright side is that it means people are coming in to watch my video clips, right?Not really. According to my bandwidth meter, I am hardly stretching the bandwidth, so I know not a lot of people have been watching my clips lately. (Incidentally, I have made some changes to the plug-in player, it will now NOT autoplay, so you must click on the "play" button)

So my next conclusion must be a lot of people must have stumbled into my website by mistake and then zipped out again. Yes, I think that must be it. I have 17K accidental porn surfers who somehow stumbled onto my website and had their libido killed, this really explains the 17K hits, low comments rate and bandwidth usage.
I need an accurate webcounter! » |
16 Sept 2004, Thursday
Episode XII : Another one bites the dust
A few days ago, while doing one of the rushed project work that I was telling you guys about, I met a pretty girl. This is a big deal as meeting pretty girls at my client's place is like trying to catch Halley's comet in S'pore. Actually, come to think of it, its much tougher than that. At least with Halley, its kind of like a sure thing. Not so with me meeting pretty girls @ my work places.The last time I met pretty girls while doing this sort of work was when I was servicing SIA. But the babe was older than me, but she looked way hotter and (younger) than most of my colleagues then. Man how I wish I was older then, coz I didn't think she was the type to go for younger men. (I must be getting old, I can't remember if I had sound her out on this or not. Mind you, we had very great rapport :) ) H, to me, is the rare breed of woman who tries to hide her beauty behind a pair of spectacles. I have only met two other woman before who are like that and as I can never fathom how a woman thinks, I can only speculate as to why these women do this and not show off their beauty. But more on this later. So enamored was I with H, I really had a hard time concentrating on my work. She was gonna leave the very next day, so she was very busy, and was always running about. Her running about routes just happened to be outside my room, so my thoughts are constantly interrupted by this visage of an angel floating to and fro. And it took lots of other moments after that to just collect my thoughts back and get on with my work. Then what seems to be like five minutes later, the whole process will repeat. Needless to say, I really didn't get much done the first day. Aye, it was definitely a very short work day for me.The next day, I decided that I should put an end to this silly crush nonsense and ask her out. But I had to do it tactfully, or else my client will think I was there to chase skirt (which I kinda was anyway) and not do his work and thereby not hire me again. So I bidded my time for the perfect opportunity and went through countless ways of "approaching her" in my mind. Being the consummate (ahem) actor that I am, I rehearsed my lines by whispering to myself. There was many, many such rehearsals and my client probably thought I must be deep in my work so much that I am actually talking to myself. (Which, incidentally, do happen to me sometimes) The perfect opportunity soon came and my game plan was to start with a ruse and then go for the jugular. (I can be quite kan also ;) ) Unfortunately, I underestimated the level of my crush and after she smiled at my ruse I just frozed, too dazed and too dazzled (tio mezzed liow) by her sweet smile to really remember what I wanted to do. In the end, I just smiled back at her and walked away, with my left leg wanting badly to kick my right ass for fouling up a perfect opportunity. But luckily, the day was young and I thought surely I will get another crack at this. Or so I thought. The perfect opportunity never come again as the office suddenly became very crowded with people and she was doing her angel act again. Soon, it was the end of the day, and the office decided to have a little farewell party for her. As my mission was not accomplished, I naturally accepted their invitation to the party heartily. (Maybe, perhaps, a little bit too heartily) But as it was a small office, the party was held in a small conference room, where everyone just gathered and listen to the boss talk about high office rentals and his exploits for the day. Really boring stuff, and it never fails to amaze me how employees will suck up and make the boss feel like he's the new Anthony Robins or something. And since the boss was my client, I also could not really make my move on H during this time as well.So the party ended eventually. As I went back to pack my things, I decided that since I have already finished up most of my work, I should heck care and go tackle her in front of my client if need be. So with steely resolve, I quickly packed my things, fearing that I would not be able to catch her before she left the office.Just as I finished packing and was already on the verge of springing out the room and pledging my undying love for H, I overheard her talking to my client's wife, "I want to invite you and Mr L to my wedding." WEDDING?!! What the?!! I was really stunned and shocked. I mean she was even wearing an engagement ring for crying out loud. I should know coz I was checking out her hands for Ring signs since Day one. After collecting the pieces of my heart on the floor, I went out and say goodbye to my client and his wife. His wife asked me if I was coming back the next day and I was surprised that I could still joked "Nah, I won't be coming back since H is no longer around". So they all thought it was a joke, and the wife even unintentionally rubbed salt to my wounded heart by informing me that I was too late and H was getting married.At this moment, I really wanted to just leave. So I smiled, appear to brushed off the whole thing as a joke and waved goodbye. I regretted that I didn't control my emotions any better as I really wanted to wish her all the best for her marriage. But I didn't. And she must be feeling a bit weird why I didn't. *sigh*I really wish that she will have a great marriage, and I truly believe the groom is one heck of a lucky guy. Coz like I said earlier, girls like this are a rare breed. I think why these girls hide their beauty is because after being spoken for,they want to fend off unwanted attention. And if this is true, then in my opinion, this kind of char bor is really hard to find.

To H, may you have a blissful marriage. And in case you are reading this and things don't quite work out (choy choy), please give me a call hor.
WTB heartness glue » |
13 Sept 2004, Monday
Episode XI : So long, and thanks for all the fish
Tonight marks the end of "Friends". Ten years..... has it really been ten years? I still remember it like yesterday, when this group of virtually unknown faces make their way into my life and become a part of it. Actually, I only recognised Courtney and Lisa then, Courtney because of her appearance in the MTV "Dancing in the Dark", and Lisa, because she played Ursula in Mad about You (MAY). But the rest of the gang, David, Jennifer, Matt and Matthew eventually became no strangers to me, and I was soon a keen follower of their escapades.I remember not missing one episode of Friends when I was staying in the hostel (this was way before the days of P2P), even if it means sacrificing study time for a tough paper the next day. I remember running from room to room and even hall to hall when I found out some cheena group had chope the common tv and are watching either done to death kung fu serials or weepy draggy taiwanese tear-jerker and patience-trainer. I would be like barging into a room full of strangers, enquiring if they are planning to catch Friends. Amidst their weird dirty looks, they must be thinking who is this siao kia? But as far as I can recall, I have never been chased away. There is always room for one more die-hard Friends fan I guess. Either that or the frothing at the mouth and desperate beads of perspiration must have convinced them otherwise. I have missed quite a few episodes of Friends after that though. Hot dates, power failures, video-taping the wrong channel, all these have contributed at some point or another to me missing my Friends. But the best part is, when I see them again, its like we could always pick up from we left off. After all, isn't that what Friends are for?Here's my olde to some old Friends : Ross : After a few seasons, I would start picking the Friends I loathed. I didn't like Ross in the beginning, and I still didn't like him towards the end. I somehow feel that Rachel is too good for Ross, and I was really rooting for Rachel to be with Joey in the end. At the end of the day, I guess the only thing I like about Ross was the monkey Marcel.Joey : Joey somehow reminded some of my friends of me, I guess its because we were both struggling actors at that time. However, while Joey soon became a prime-time soap star, whereas I am still a struggling actor. And no, I don't bed one tenth as many gorgeous woman as he does. Guess that's why I stopped reminding my friends of Joey now. (How're you doing?)Rachel : After Jennifer got married to Brad, I started noticing that she's always in some VNE outfit. I don't know why, maybe its on purpose to boost her sexuality. Seriously, I didn't think Rachel was that hot only until she got married to Brad. That Brad is a lucky lucky man. Hmm, it looks like that David is also a lucky lucky man.... :( Chandler and Monica : I think Chandler and Monica getting together was the one theme that kept the series going until its final season. Chandler's offbeatness and Monica's neuroticness really play off each other very well. And the fact that they can't really have any children just makes their union so bittersweet, you cannot help but root for the couple. And even though Chandler hardly does his trademark double-takes any more in the latter seasons, I loved the fact that the writers still faithfully give him the best lines in the series. Sadly though, Matthew don't seem to do very well outside Friends. Phoebe : Phoebs and her smelly cats. 'Nuff said. But I think I remember Phoebe more because of Lisa, and how she is really this brilliant girl in person. And how she rallied the cast to force the producers to pay them more. Damm kan wan, this one. But yet she can play Phoebe so well. Really ultimate TSAB type(Think Smart, Act Blur).

So so long guys. Thanks for the memories and your company on many a lonely Monday night. You guys will be impossible to replace.
Can I be your Friend? » |
10 Sept 2004, Friday
Episode X : Mr Wonderful
I just uploaded the short film I did earlier this year, called "Wonderful You." Finally got the director's blessing to upload it. Its quite a long clip, about 12 minutes, so I have broken it into two parts. Even then, please be warned that the whole film will take up a whopping 50megs. Those on dial-up, errm, maybe its time to upgrade? :PI remember having quite a blast doing this shoot, and its not just because I'm the lead. :P Its because the production team was really quite a dedicated bunch, and while working with them I can feel their enthusiasm and passion for their craft. This was not the first time I have done a student film, but it was the first time I have done it for ADFP students. Which stands for Advanced Diploma Film P-something. Accordingly, ADFP is the film course for people who already have a basic degree/diploma, but I hear they teach the same thing as the normal diploma course, the only difference being ADFP students get to handle 35mm at the end of their course, while students of the normal diploma course get to handle 16mm only. Whats the difference you ask? I think size kind of matters lor. Like I was saying, since the ADFP course is kind of like a post-grad course, you get students from all walks of life. You have your usual career switchers, you even have retirees but most importantly you have people with passion. And when you work with people with passion, your own passion gets inflamed as well. I remember really getting into the thick of things, bouncing my wacky ideas off the director and arguing with the script-writer (sorry, Jane) on certain scenes which I thought my character would be out of character if he was doing the scene that way. And I really enjoyed that, coz its really hard to get any kind of creative platform while you are acting for the camera, so I relish whatever scraps I can get. In one of my idea-bouncing session with the director, I told him that the title should be "Mr Wonderful". But alas, no one else agreed with me, so the title remained the same. I guess the next best thing was to name this entry after the title that I thought would be very apt for the film. So there. :) During the shoot, I also noticed the director had a peculiar way of directing us. He would deliberately go to the actors separately and whisper his directions to them, so that we won't know what the other is supposed to do. The reason, which I deduce correctly then, was so that our reaction to the other actor's actions would be more natural. I told him that he was 'pampering' us by directing this way, and that he is taking the risk on the casting being spot on. This is so as the actor will then need to be in character when he is reacting naturally to the "surprise" actions of the other actor. I feel an actor should be able to act out whatever is required for him, without using natural reaction as a crutch. But he told me thats the way they are being taught during the course. I kinda wondered then if its because the lecturer felt that for a student film, theres a high likelihood the actors used would be very inexperienced and so this kind of crutch is necessary, or else the takes needed would be too many. But if he really feels this way, how come he never explain his rationale to his students? Or maybe he thinks actors in S'pore are really not up to scratch? Anyway I told my director that I have worked with many directors before for television, and none of them use this kind of "crutch" on me before leh. In doing so I hoped that he will not think that I need this "crutch" should I have the chance to work with him in the future.This short film, is actually a mini "Monster" to me coz I have to really try and look not good throughout the film (being the egoistic and vain bloke that I am, its really no mean feat). But while Charlize needed tons of make-up to achieve her look for that movie, mine was achieved with the help of zero make-up whatsoever. Yes the fats you see in the film is very real, no camera trick wan. In fact, I think if you ask my ex-girlfriend, she will tell you that this is how I look like all the time. You can tell we didn't really parted amicably.This role was also what I needed to do after performing villiany roles in True Courage and Missing. I needed to break out of the "evil" mould that I have been psyching myself up and this role helped me achieve that tremendously (failing which I fear I would do something stupid and get arrested). I guess thats the danger of going Method, if you are not careful, you can "walk fire enter demon"(which is chinese for going out of control). I remember the last time I played a woman, I was still unconsciously walking on tip toes and swaying my hips when I walked for weeks after the production was over. So I went on a dive trip to try and gain some manliness back, only for my dive mates to ask me why I was walking on tip toes all the time. This Method thingy is really scary man.Talking about Method, Bee Lean, the actress asked me how to prepare for a crying scene. You see, Bee Lean was acting for the first time (according to her) and she really wanted to do a good job. Since I didn't want her to worry her pretty head over it, I introduced the concept of method acting to her. And I think the pretty lady pretty much grasped the concept pretty well, judging from the way she acted in the crying scene. If you are reading this, Bee, I would like to say "Well Done!" Stand up and take a bow! So go watch the show if you haven't already done so, and feel free to give me feedback on my acting or on the film itself. BTW, the cut I received do not have any closing credits, so no need to adjust your player hor.

Some kind of wonderful » |
8 Sept 2004, Wednesday
Episode IX : The Cat In the Hat (i.e. out of the bag)
In episode six, I mentioned that I was interviewed by Computer Times and that it could get published. Well, it did. Was I happy? Initially I was. Then I realised that the article didn't really put across the point I wanted to make, and they also never publish the url of this website. Worse still, they go and reveal my age. So now you know. If you don't, please don't ask me hor. In case you are one of those people who have read the article and somehow manage to google my url (which is an amazing feat, coz I couldn't find my own webpage through googling "Vincent Lee".... didn't know I had so many namesakes around :P), I would like to say that I don't consider hosting my video files to be a virtual audition. I, however, do hope that the clips gets me more auditions. And I don't make tapes... I make VCDs :P And I still send out them VCDs, if need be. And I can't be a former accountant, since I still do public accounting projects. See, I not famous yet and I get misquoted already! Maybe I will be famous soon? *muses*Now that we have cleared all this up, wouldn't you all agree that Garfield the Movie just looks plain wrong? I mean, the cat in the movie seriously don't remind me of Garfield at all, and the only feline worth watching seems to be Jennifer Love. Incidentally, if I ever manage to get her to marry me, I would want her last name to be "Vincent Lee". Wishful thinking you say? Well, since its wishful thinking that I can get her to marry me, I might as well go for broke and think that she'll agree to bear my name as well. No use not dreaming big I always say.

I ipod, do u upod?

I finally got my hands on an ipod. I had went on the first day of Comex to try and get it, only to be told that I had to wait two weeks for it. Two days later, I found out that peeps who went down two days later than me got their ipods on the spot. And I even had the following conversation with the salesman in day one somemore.Me : "Eh, so will you all be bringing in stocks the next few days?"
Salesman : "No."
Me : "Really?" (eyebrows raised high high)
Salesman : "No, got worldwide waiting list ok, I tell you no chance man." (Nose raised even higher)
Me : "Eh, in case got, can you all call me?"
Salesman : "Wen have lah. Ok lah." (U not chiobu, I not gay, call you for fish?) I think its only in S'pore, you can get this weird mind boggling business tactic. Good luck to retailers asking me to place a deposit on a product in similar exhibitions in the future. Anyway, my ipod misadventure doesn't end there. I went to try and buy a protection case for my ipod today, only to find the shops @ Funan closed when I reached there and the apple centre @ Orchard don't carry the colour of the skin that I want. So I have not yet used my ipod, for fear of disfiguring that nice body of hers. I guess further physical intimacy with her will have to wait until I get some protection.

"I Had a Bad Day Again" (Bad Day-Fuel)

Read all about it here. But got some religious stuff there, so don't say I never say so.
Help me name my ipod! No, I am not calling it dopi! » |
3 Sept 2004, Friday
Episode VIII : Return to the King

Me : Hey Adrian! check out my William Hung impersonation!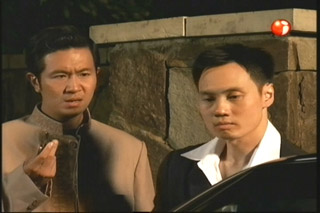 Adrian : OMG tads awful!
Me : Fine, everyone's a critic.
After every ending there is a new beginning Tonight was the screening of my final appearance in Durian King. Although the episode was funny, it was even funnier for me coz I was laughing very hard at my acting. It was this scene. Seriously, I really wasn't trying to be funny at all, and I am not sure if any of you will find it funny (do let me know if you don't). But the part where I fluttered my eyelashes....*ROFL* ...... I didn't even realise the effect would be like this man.....hahahahaha.....

Ok, I think I have composed myself now. Some of my long suffering friends who are reading this must be wondering how come I didn't do my usual sms and email alerts to catch yours truly in action. Well, I figured now that I have this site up, and I have, errm, gently reminded all of you of its existence, I should now give you some much needed peace. Also, this website not cheap to maintain you know, and all those smses cost money. But seriously, I think some of you are beginning to find me a nuisance already, so I thought I better quit while you all still can stand me. So, in future, all my noteworthy performances will be announced in this website only. (Eh, so can you all stop ignoring my smses and emails from now on?)

It never pours but rains

Before September began, I was really starting to get a bit worried coz I haven't been acting for the longest time (actually about 3 months). I was starting to get restless and I thought if I am not getting any food for my soul I'd better start getting some food for the tummy. So I took on two projects with a tight deadline, only to be bombarded suddenly by auditions and acting jobs. AAARRGGHH. And I got a few auditions tomorrow as well. There goes my taking things easy for the month idea. Sheesh. Its not that I don't like getting auditions, but I am kinda regretting taking on those tight deadline projects. Maybe I should really go and be a waiter instead of doing all these freelance stuff.

"You can't audition for this role, you look too young!!"

I get that. And I get that a lot. I am thankful that I looked younger than my actual age, but as an actor I like to think I can act my age, or any age for that matter. :P Today, the producers of Durian King told me they don't think I am suitable for one of their productions coz I look too young. No matter how much I begged and pleaded and even suggested plastic accessory, they still said No Go. Like I said not the first time it happened. You may all think that this is an advantage but I tell you, sometimes its really like stuck between the devil and the deep blue sea. Coz sometimes they will ask you how old are you. And then when you tell them, they say you are too old for the role. But people say I look younger than my age, you say. Thats what they all say, they replied. AAAARRGHHH!!! I can't win!!! (No, I am not revealing my age. I am so pissed already you all still want to piss me further arh?)

"I wonder, I wander, I Wanda...(and Sandra)" (A Fish Called Wanda, words in parenthesis, mine)

Sandra's the name of the tall beauty that was the date of the banker Alvin (my friend Ernest) in tonight's episode of Durian King. I was surprised that for someone with no or little acting experience (thats what she told me), she managed to pull off the bitchy role quite well. She is certainly not that bitchy in person; in fact I find her a very nice girl. And she too, like me, is an accountancy grad and (just recently) an external auditor as well! (Who says all accountants are boring?!!) She's also very level headed, and she told me she really want to be a banker one day and no, she doesn't even want to be an actress. Well Sandra, if you ever want to be an actress, I personally think you got potential. Serious potential. And no I am not saying this just to get into your pants. I mean, not that I don't want to. Eh, I mean its not that I don't find you attractive. Eh, I mean..... eh, gee, how about breakfast one of these days? Yes? So should I call you or nudge you...oops.... *sigh* I think I will keep quiet now.
So you want a raisin? No? How about a date? » |
1 Sept 2004, Wednesday
Episode VII : Singled Out
One of the hot news recently is that singles above 35 can buy flats of any size. Seems like most real estate agents were happy with this, and can be heard giving comments like "this is the shot in the arm the property market needs" and how "singles have more disposable income and so are more likely to splurge on bigger homes".Sometimes, I wonder who these agents are and how they arrive at their analysis. If they represent the majority of property agents here, its no wonder the property market is in doldrums.I mean, if they are comparing a married couple with dual income to that of a single and still say that the average single earns more than the average dual income married couple, I would like to know which school they come from so that I can make a mental note not to send my future kids there.One thing I will agree though, singles do tend to spend more. My friend Dennis who is a happily married father of one always say I "lui kah juay" (too much money), coz it would seem like I'm forever upgrading my PC, handphone etc. But even though singles tend to spend more, its quite unlikely that they will suddenly want to part money and buy a four or five room flat. Heck, if I had that kind of money, I will just get the three room flat and use the rest of the dough to buy a babe magnet car. No use having all the room if no one's gonna use it.Furthermore, they lowered the income limit to getting a concessionary loan to below $3k a month. So the situation strangely resembles the recent airing of Sexless, I mean Sex and the City. They give you option to buy bigger flat, but they take away one of the means to get it. Isn't this like allowing you to watch SATC with no scenes of Samantha bonking happily?I think most singles out there would probably have preferred the age limit lowered, rather than be given the option to buy bigger flats. Why, this may even go a long way in solving the current situation of adults not marrying. I mean this can help promote sex in the city. Couples instead of doing it on the sly in cars, dinghy hotel rooms or for the more adventurous; the public toilets and parents' bedroom, can now do it in the privacy of their own place. Pick up lines like "Your place or mine?" will then begin to have relevance in S'pore. Who knows, in true S'porean spirit it may even become "Your flat or mine?"Of course, I am not saying that the level of horniness should be directly related to the marriage levels of the city. I for one, do not advocate being with another just for sex. But, lets face it, there are already plenty of sex in the city. We have been so indoctrinated in the cultures of the west that nobody really gives a hoot about pre-marital sex and one night stands now. You may beg to differ, of course, but I have a feeling we are sadly but surely, a growing minority. Giving singles opportunity to own flats at a younger age means they can move out of their parents' home and have their privacy to do whatever consenting adults want at a age where they may still feel sexy enough to do it. And if a percentage of these adults do get hitched, it would mean they get hitched earlier and can contribute to the procreation process earlier as well. Aahh, but won't it contribute to more social ills? The way I see it, these contributory social ills are already happening even now. Might as well go with the flow and reap some benefits.So why they don't want to lower the age limit but give this neither here nor there option instead? I have been told this is what most singles want. Hrrmmph, I think its more like what most singles who already own three room flats want. You wanna know what I really think? I think the gay community will benefit from this ruling the most. Since we don't sanction gay marriages yet, this is really one good way for a gay couple to share their lives, I mean they get to live in nice five room flats like what every other couple in Singapore get to! Not that most gay couples who want to do that and subject themselves to the kah poh gossips of the typical HDB aunty. But, hey, its a start! Right?Hmm, maybe the property agents do know what they are talking about after all. As for me, I will still be waiting for the straight singles' goody bag. And I hope it will be more than just sex and the city.

So, your place or mine? » |