28 February 2005, Monday
No Such Thing as "Live" Anymore
Today I had a small milestone. I watched the Oscars "Live" for the first time in my life. I must say I was quite disappointed, as the only tv station that telecast it live went to screw it up.

First, it censored Robin William's antics at the beginning of his presentation. Then, its over zealous run of adverts cut into Julia Roberts presenting the Best Director award.

Hey, whats the purpose of showing it live if your audience are not gonna get to watch EVERYTHING? To me its like watching a soccer match live and they censor all the goals :P Bah, if I knew this was going to happen I should have watched it later tonight.

I read somewhere before, right after Janet Jackson's Nipplegate affair, networks are now broadcasting live shows five minutes after the actual thing, so that they can get a chance to censor waldrobe malfunctions. So I gues it means that there's no such thing as a "live" show anymore, and I had just experienced it first hand.

I was also disappointed because Chris Rock was the host this year and frankly, he just cannot hold a candle to Billy Crystal. His opening act was stale, his jokes were not that funny and he made fun of Bush.

Don't you just hate it when they try to bring politics into the award show? I don't know about you, but it always leave a bad aftertaste in my mouth.

Awards that I managed to predict correctly :-

1) Best Supporting Actress : Cate Blanchett
2) Best Supporting Actor : Morgan Freeman
3) Best Actress : Hillary Swank
4) Best Actor : Jamie Foxx

I got the best picture and best director wrong. I thought it would be Marty and Sideways. Noticed how I got all the acting awards correct? Hehehe. I feel a bit sorry for Marty though. I thought he was one helluva filmmaker and that it was high time he got recognised for it. I mean, everyone who won an award for the Aviator thanked him specifically. That really goes to show something about him.

Not that I don' think Clint deserved his two awards. I can't comment as I have not watched Million Dollar Baby. Heck I haven't even watched Mystic River. And I am happy that he won. He proves that actors can go on to be great filmmakers. For someone who wants to make films after he is too old to act, it certainly is very encouraging.

Yeah I do hope my stint in this line will be just like Ron Howard, Robert Redford and Clint Eastwood.

Oh yeah, I almost forgot, I just uploaded a new version of my showreel. (Can see my amatuer filmmaking skill in action!) Do pop by and tell me if you liked this one or the older one better.

Gonna leave you with this link to an outstanding comedy clip by Russell Peters. I dunno who he is, but I think he is very good. (Warning : Don't watch this after doing a 100 sit-ups)
Give it up for Russell! |
23 February 2005, Wednesday
Moving on
I am finally moving on, babe. It has been like what, five years?

.....Woah, has it really been five years? Gee, I never figured myself to be such a sentimental fool.

But you will beg to differ, I'm sure, especially on the fool part.

Maybe I really was a fool. A fool to push you away. A fool to throw away what we had. A fool to stick to my principles. And maybe I was a fool too, in keeping my promise to you.

What promise? Oh, just the one about not letting you go till you let go of me. You see, I may have pushed you away, babe, but I didn't let go.

And so all this time while we are apart, I waited for you to let go. And eventually, you did. I guess it took you a lot shorter than five years. But it took me a little longer than I expected.

Ok, a whole lot longer. I guess I AM a sentimental fool.

So said my friends too. Oh, wait a minute, come to think of it, they just said I was a fool. Said you weren't worth it. Said even if you knew what I was doing, you wouldn't appreciate it.

You know what? I didn't care. I meant what I said when I gave you that promise, and I meant to keep it irregardless of what you felt or think.

Oh I know you probably didn't believe me when I said it. And who can blame you? I certainly didn't behave the part when I kept pushing you away all the time. And you probably didn't know that everytime I pushed you away, it was like stabbing my own heart a dozen times.

So,now you know why I appeared to be heartless then; there probably wasn't much of my heart left after the many times I have cut it up.

Funny. I still remember the way you laughed at my corny jokes. And that half-chiding smile that you would give me. And how it made my day to see you smile and hear you laugh.

I remember your tears too. How they were first shed when you told me you wished you met me earlier. Things would be so much different, you said.

I agree, babe. Things would have been so much different indeed.

And because things could have been so much different, I was really angry and frustrated with you. For making all the foolish choices you did before you met me. For being partly responsible for the mess we were in. But I could never stay angry with you for long, babe. And besides, part of the fault was mine too.

I really shouldn't have allowed us to start something we couldn't finish.

Its funny. We didn't plan to start the fire, but somehow we still got burnt.

Was what we had real? I guess I'll never know.

You certainly thought it was, I guess. I remember how you would piece obscure coincidences together and say it meant something. Like how our names in full have the same initials. And how we came from the same secondary school and JC. Heck, you even said that our birthdays being only 2 days apart meant something. I'm still figuring that one out, babe.

I'll admit, we sure had our moments. There were times when we were together, and it really felt like we were meant to be. So why did I still push you away?

I had to, babe. Or I wouldn't be the person you fell in love with in the first place. Like you said, if only we met earlier....

Its ironic that I found the poem you left behind just when I could finally let you go :-

一起走过的日子

如何面对, 曾一起走过的日子

现在剩下我独行, 如何用心声一一讲你知

从来没人明白我, 唯一你给我好日子

有你有我有情, 有生有死有仪

多少风波都愿闯, 只因彼此不死的目光

有你有我有情, 有天有海有地

不可猜测总有天意, 才珍惜相处的日子

道别话亦没多讲, 只抛底这个伤心的汉子

沉沉睡了, 谁分享今生的日子

活着但是没灵魂, 才明白生死之间的意思

情浓完全明白了, 才甘心披上孤独衣

有你有我有情, 有天有海有地

当天一起不自知, 分开方知根本心亦痴

有你有我有情, 有生有死有仪

只想解释当我不智, 如今想倾诉讲谁知

剩下绝望旧身影, 今只得千亿伤心的句子


I'm sorry if I hurt you bad, babe. If it makes any difference, I was hurting real bad too.

Happy Chinese Valentine's Day, dear. Wherever you are.
Kissed me slowly, I was a fool |
16 February 2005, Wednesday
Serena say I Diva
Recently I appeared as a headline in Serena's blog. So I am returning her the favor by making her the headline of this entry! No need to thank me Shey, that's what frens are for :P

I also happened to look at some of my spam mail lately (which somehow sneak past my filter) and realize these evil spammers are getting smarter and smarter. But you probably won't think so at the first instance. This is because they now send you spam that have weird Christianly type passages but are in incomplete nonsensical sentences.

Then right in the middle of it they plonk their tag line "Buy XXX to increase YYY size now!"

And then the nonsensical incomplete sentences begin again.

At first I thought the spammers must be hiring some illiterate bum to do their dirty work and hence the mangled sentence construction and weird Bible references.

Then I realized suddenly just how smart they are.

Firstly, they must have figured out that this kind of badly wrought sentences can bypass whatever filter most anti-spam software have. Then they aim to make you hate the Christian religion coz they now associate it with spam. And lastly, when the anti-spam software devises a way to filter this kind of spam, they will also filter away true Biblical text as well, thereby limiting the spread of Christianity through email...

Sounds evil hor? But then again, I may have been too affected by Constantine. Which I find quite excellent actually. Totally dig it man. Hell of a movie. Go watch it.

Oh incidentally since we are on this topic, you guys gotta read this blog on pvp. Hilarious man!

I also find it quite funny that the foreign talent issue was raised again recently. Some parents got worried their kids can no longer be first in class, thereby robbing them of bragging rights at the next family gathering. I think someone tried to pacify this growing number of people (from sportsmen, office workers to, errm, parents now. Don't pacify now next them grandparents will complain also :P) discontent with foreign talent by saying that they will make them S'pore citizens.

Eh, if by making them citizens means they have to do national service and reservist and then civil defence thereafter, I think this foreign talent issue will be a non-issue.

Which brings to mind one of my fav sayings :" A land that rewards foreign talents over locals, will soon be foreign of talents locally, and eventually be foreign of talents totally." (Check out more here)

Hmm... this entry seems to have lots of links. I guess it wouldn't hurt to link one more I happened to bump into recently. You guys must check out the Ali G interview with Posh and Becks. Totally roxx man. (And yeah, the sexy webcam asian girl roxx too :P)

Well time for me to go. Before I go, here's What I Did Last Valentine's Day :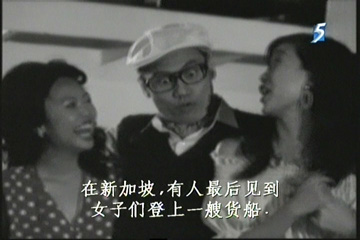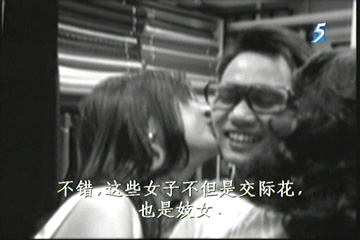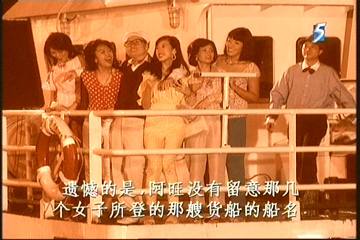 In case you are wondering, yes, I was working |
9 February 2005, Wednesday
祝大家新年快乐!
Ruok and all his split personalities will like to wish everyone a happy and prosperous New Year, and that there will be no major cock ups in your life during the year of the cock. (Yeah I agree, it sounds kinda cock but I can't help it hehehe)
4 February 2005, Friday
Ellipsis
I saw her again, two weeks ago, at the underpass and she appeared to be with her mum.

At first I thought I had mistaken someone else for her.

Then she glanced up and waved at me. Man, it really is her! Gee, I think I have never seen her this beautiful before...

OMG, did she catch my mesmerised look?

I quickly waved back. Shit, did I recover in time?

The moment passed, and another sea of faceless faces now flood my eyes. I turned back, wanting to catch another glimpse of her, trying to reaffirm what I had just seen was no illusion. But I know it was probably a lost cause.

And yet I turned. And fufil my own self-prophecy.

The pain in my stomach did not go away. As it turns out, it will soon escalate into a major gastric crisis for me. But yet, all I could think about was her lingering image in my mind ...

... Damm, why can't I shake off that image? What is happening to me...

It dawned upon me a few days later that that day must have been her birthday. I remember she telling me it was near the end of the month. So it must be. It must. I just know it.

I try to convince myself that what I know is due to logical deduction. But sadly, the truth is I know because something in my bones confirm this deduction. That something in my bone is scaring me...

Do I tell her the next time we meet? That I have guessed her birthday correctly? Will she freak out? Will I freak out that she freaked out? Do I want her to be freaked out? Wait a minute, why will I want her to freak out?

Why indeed...
Am I ok? |
2 February 2005, Wednesday
昨天她嫁给我了
Just had my screen wedding yesterday and it was quite surreal. (The series is called 活下去 and I play a character called 立国) The shoot was real early, which means I had to wake up even earlier.

I remember my friends RL weddings which also required them to wake up at unearthly hours to do heavenly things, and here I am doing the same thang.

Well, almost the same thang. I am waking up at unearthly hours but unfortunately not doing the heavenly thang.

When I reached the wardrobe department to collect my costume for the day, there was an amazingly long queue. In a weird way, it sort of reminded me of when the groom had to wait for an eternity and subject himself to the mercy of the merciless "姐妹" of his lovely bride. Coz I was really waiting for an eternity and subjecting myself to the mercy of the sometimes merciless staff at the wardrobe department.

(FYI, for those not in the know, its customary in many Chinese weddings to have the bride's friends torment the groom at the gates of the bride's house, before he can pick her up to finally get on with the wedding and eerrm, it.
Torture methods usually involve making a total fool of oneself, or buying one's way in or both. Sometimes, you get to see some very cool creativity at work here, which really makes you wonder why people think S'poreans aren't creative at all.)

After the long wait at the wardrobe department, there was another long wait at the make-up department. It seems everyone needed to doll up that day, including the extras that will act as my guests. While waiting, it strangley dawned upon me that I was kinda going through what some grooms had to go through once they got past the gates and enter the house. (Is it me or is this screen wedding getting more and more real? )

FYI again, 姐妹s from hell will always make the groom go through round two once he is in the house. Usually, it will involve either more silly antics from the groom, or they will ask him to guess which room the bride is, or both. And yes, sometimes they do allow you to bribe them, which I think at the end of the day is their main objective, those bloodsuckers. You'd think that its no wonder why some men are afraid to get married after witnessing all these.

But then again, not every groom has to subject himself to these tortures. One trick I learnt from some of my buds that got married was to be late and say that you are rushing for time and have no time to play such silly games. Sometimes, it worked. Another way was to act very angry and threaten to call off the whole wedding. Sometimes, that worked too.

Of course,some desperate ones will use all the two methods just to get it to work. And when all else fails, just get your body-builder friend to bash the door open. Desperate times call for desperate measures mah.

I had observed that success rate of the above antics really depends on how vicious those 姐妹 are. And how much the bride really, really wants to get married ;)

Ok, back to the shoot. At the end of the day, I think I have gone through what most grooms would have gone through in a typical wedding. There was the standing around and waiting for (hopefully good) things to happen. (In my case was waiting around waiting for my scenes to be shot).

While waiting, I did some good things on my own :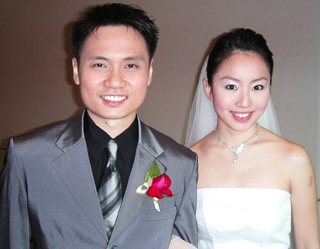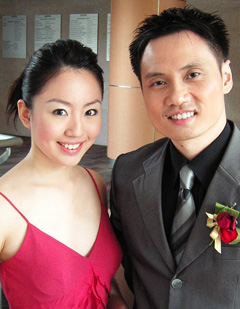 Me and my lovely "bride" Jeneen
Then there was the conversations with strange wedding guests. (In my case, we had to ad lib to the extras playing as my guests to create atmosphere).

And of couse, there was also the picture taking sessions :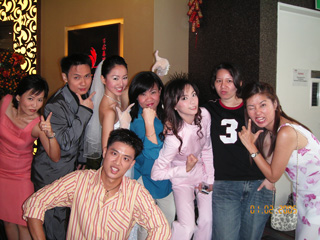 Some of the other wedding guests. The pretty in pink one is Laura, a Taiwanese actress.
And there was the merciless jibbing at the wedding couple. (Well, eh, this was scripted :P)

There was even a missing wedding ring "crisis", goodness gracious. (But like all good wedding story the ring was found at the end)

And finally at the end of the day, my last scene was shot and it was finally a wrap. Whew.

And if you are still wondering, no, my last scene is not the 洞房scene.
So how much angbao you give ah? |