April 27, 2005, Wednesday
Ouch!
Remember my eye infection? How it became a cyst? I went to have it removed today.

It was a 5 minutes surgery.

It has now been 10 hours of agonising pain.

The worst part is the eyelid is still swollen. Pardon me, the worst part is not being able to wear contacts for another 2 weeks!!

I now hope the next role I get wants a be-specatacled me . *sigh*
Sight for sore eyes |
April 26, 2005, Tuesday
Older liow. Wiser buey? Eh, Part Two.
Today, my client asked me to have a chat with him. He asked me what are my plans for the future, and asked me if I really wanted to continue doing what I am doing now.

The last time we had such a talk, he had asked the same thing. That was about a year ago. At that time, he wanted to offer me a full time position in his firm, which I turned him down coz I can't hold a full time job and act at the same time.

This time round, I get the same vibe that he wants to offer me a full time position again. I had just advised him on some thorny issues involving one of his customers, and I think the way I handled the matter must have impressed the socks off his associates. So much so that they must have convinced him to try and land me again. Hmm, that last bit didn't quite sound like it come off right.

Do I really want to continue what I am doing now? Honestly? No. Right now, I am in limbo. I am neither here nor there. I am also not there or here. I exist because I hope. I hope because events that had transpired in the past have given me much to hope.

But one cannot hope forever.

When I took this plunge, I told myself the swim should be three years. It has now been four. SO why didn't I stop? Because I am not drowning yet. I am not even threading water. AND that beautiful beach I am trying to swim to? Well it seems closer today than it did yesterday.

But one cannot hope forever.

As I get older, I realise that the decision to stop swimming to that beach or start heading for the nearest island gets more and more crucial. Lets face it, there aren't always gonna be islands along the way. Sekali I keep swimming and the last island I miss is the last one. Then how? Will I drown? And if I start to drown, will mermaids come and rescue me?

So one cannot hope forever.

I think I should stop swimming. I should go and get a boat. With a boat, I can afford to continue sailing/rowing to that beautiful beach. With a boat, I can afford to miss the islands along the way, coz I can always tombalek (reverse) back.

I so smart hor, so wise hor. The problem is, I dunno what kind of boat I should go get. *sigh*

In case you are wondering, I turned my client down again. He then tried to convince me by telling me I should settle down and start a family liow, coz aku not getting younger.

Aku eight character also haven't one stroke (八字还没有一丿), how to settle down? When he heard my retort, he told me I too choosy liow. WTH?!

Talking about choosy, I kenna scolded for being choosy by a friend in the industry. She just informed me about a casting call for a damm clown role and I told her she must be mad if she thought I would go for it. She said "Even huge Hollywood stars couldn't afford to be choosy when they are starting out."

She has a valid point. If I am starting out, I cannot afford to be choosy. And when I was starting out, I was not choosy leh. The roles I did when I was starting out would make me die of embaressment one. So to make that kind of remark to me, she's insinuating that I am STILL starting out.

Nah beh. I think I've just been insulted.
So should I get a yatch, a trawler or a sampan? |
April 24, 2005, Birthday
Older Liow. Wiser Buey?
Today I am older. Do I feel older? In a way yes, in a way, no. I have been feeling older even before today and I know I will feel older after today. But today, I just feel normal.

Hopefully, I am wiser. I have been feeling wiser. Sometimes, I wish that I am not so wise, to enjoy the bliss that ignorance sometimes bring. Sometimes I wish I can retain the wisdom but forget the pain awareness sometimes bring.

So what do I want for my birthday? Hmm, how about world peace? :P

I know what I want from my life, and I have been hoping every birthday that I will get it. I hope that when I eventually get it, I will not be too old. This year is no different, I am making the same wish, but it is starting to feel old.

The one difference this year is that for the first time in my life, I planned my own birthday bash. And since this was so not me, many of my friends are surprised.

Whats the reason, they asked. What's so special about this year, they asked.

Man, I would have thought that my friends would have been used to me surprising them every now and then. But of course, that was not the reason lah.

All my life, I never really had a birthday bash. In my academic years, my birthday fell too close to exams, so the most I had was a very quite celebration, if not no celebration at all. ( Must stardee, where got time to partee?)

When I was 21, it happened that my NS unit was on exercise, so the mosquitoes and the black ants were my party mates that significant year. It was quite good, over some baked beans and dog tacs (army rations), I got 5 love bites from the mosquitoes and three kisses from the ants.

When I started working, the audit deadline for the firm's biggest client will fall around my birthday period, making me too stress out to really go and party.

When I ran my own business, I was, errm, too broke and stress to go and have a birthday bash.

When I started walking the acting path, I was also too broke (although not as stressed) to go and have a birthday bash.

So you begin to see a pattern, first I was not-broke-but-stress, then stress-and-broke, then broke-not-stress. Thankfully this year I am not-stress-not-broke. Gee, I hope it stays this way.

The bash was held on Friday @Thumper. Being the wise guy that I am, I know that I need at least 1 day to recover from a good chiong. Being the wise guy that I am, I went and reserve the non-smoking session so that my aging lungs will not subject itself to the harmful effects of tobacco. And being the wise guy that I am, we end up at a section that was far from the noisy but happening section. Well, at least I have a chance to catch up on some long time no see friends :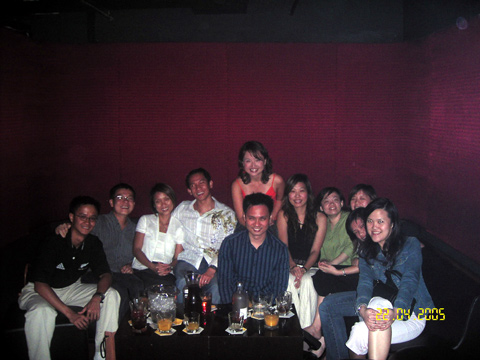 Thumping good time!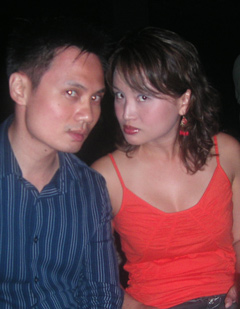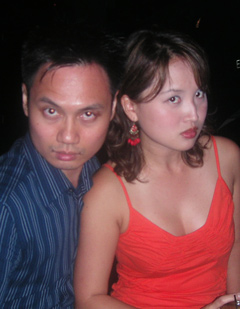 Look, the paparazzi is taking our photograph! Quik, give then the "Ferrari" look!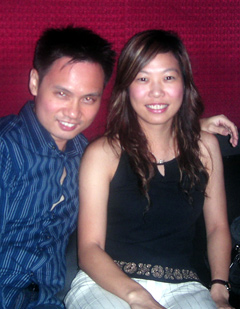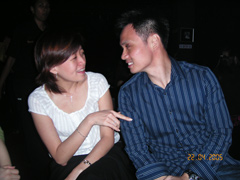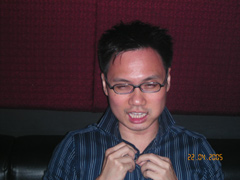 Alrite! Time for aww... gee!
By the end of the night, everyone was calling me by my nick, "R u ok? R u ok?" (Thats my name guys, don't wear it out. :P) But I guess I gave them just cause; I drank till I puked for the very first time.

(I actually puked when we adjourned for supper... the smell of the "hah cheong kai" made me do it...)

Not surprisingly, I spent the next day nursing the hang over of all hang overs. Oh well, at least I had my wits back on my birthday itself.

Happy Birthday, dude. I think ye have mellowed much.
祝我生日快乐! |
April 19, 2005, Tuesday
A Casino By Any Other Name ...
Their Betting Dollar by Ruok
(Adapted and hence sung to the tune of The Blower's Daughter by Damien Rice)
And so it is,
Like you said it would be
Not one but two IRs only
Soon, in no time
And so it is,
A short cut, sorry
No guts, no glory
No morals left to cry
I won't change my mind for you
I won't change my mind for you
I won't change my mind for you
I won't change my mind for you
I won't change my mind for you
I won't change my mind...
And so it is
Just like you said it should be
We'll both forget the sleaze
Soon, in no time
And so it is,
The weak ones falter,
With their betting dollar
The people in denial
I won't change my mind for you
I won't change my mind for you
I won't change my mind for you
I won't change my mind for you
I won't change my mind for you
I won't change my mind...
Did I say that I heard you?
Did I say that I want to
Make you lose your behind
And I can change your mind for you
I can change your mind for you
I can change your mind for you
I can change your mind for you
I can change your mind for you
I can change your mind...
Your mind, your mind
'Till you find something else to boo
Tis version sure no.1 hit wan, u can bet on it |
April 14, 2005, Thursday
My Webcast Wedding
First off, a special word of thanks to the finicky one for plugging me. (Fwah, I kenna meowed!)

I would also like to thank all of you who have taken valuable time off your busy schedule to tune in last night. (If this sounds familiar, its because its parapharse from the usual wedding dinner master-of-ceremony's speech)

To be honest, it really wasn't a big role. In fact, you won't be wrong to say that its a 花瓶 (flower vase) role. But since its not everyday one gets to have his wedding broadcast on national television, even if its just reel life, I've decided to make a big fuss out of it.

Sooo, I'm going to webcast this for the benefit of my overseas friends.


Don't say I nebber take care of you all, quik go buy 4D!
Ok, who nebber give ang bao? Own up! |
April 13, 2005, Wednesday
My Televised Wedding
Catch my televised wedding tonite! 9pm TCS 8. Remember to Pay Pal me your ang bao hor.
April 11, 2005, Monday
Dreamchasers
We were a bunch of dreamers who when given what seemed to be a second opportunity at that time, grabbed it and looking back now, we all felt that we were exploited by the corporation which will not be named.

Actually, I knew it was exploitation right from the start but I still went ahead with it, hoping to be proven wrong. Such was my foolish desperation at that time.

Four years on, we decided to meet up yesterday to catch up on oh! times and oh! dreams.

For many of my course mates, those dreams are almost over. R, the organiser (thanks!) and initiator of this event, is legally but not customarily married. YP, will be going to her honeymoon on Friday. J is going abroad for further studies. B is studying as well, and working at the same time. A is a full time mother of two, and still looks like she can give Miss Universe a run for her money. JH is probably the only one still with some link to the industry; she is a freelance producer at a local radio station.

Standing : J, R and red-eyed me.
Seating L to R : A (Mrs Universe), B, JH and YP
Once again, I think I am the odd one out. I guess I am the only one still "actively" pursuing the dream. I remember four years ago, I was kinda the odd one out too, being the oldest around by very far and one of the most kantang one around as well.


Took this with the help of an angmoh and his very pissed off looking SPG. I think she must be jealous of the babes here lah

We had a good time sharing. How A got married after a whirlwind romance of 11 days and then had two kids in two years and still looks like someone from an "after" slimming ad without actually going to one. Her explanation is that coz she got pregnant young, the body can spring back easily, like a piece of new rubber band. (Fwah, can like that wan meh?)

How R is agonising over having his wedding dinner in a restaurant or in a hotel. The food is gonna be better and cheaper in a restaurant but the hotel will add more glam and ambience. He laments nowadays people overuse the phrase "once in a lifetime" to the extent that it becomes an excuse to spend lavishly on overpriced wedding packages. I kinda agree; caveat emptor doesn't really apply when one is in marital bliss.

How more and more people are going into trial marriages. (Trial marriage is really just an euphemism for co-habiting) This came about when the married people start asking how they can change their spouses bad habits after marriage. They figured because it is kinda impossible to change one's partner overnight or even over the years, there is a trend amongst couples these days to enter trial marriages to see if they can live together. (Bah,I say its all in the name of free sex :P )

And how they find my recent commercial to be really funny. (Funny meh?)

We had time, we had fun, we were divas in the sun
In the midst of conversation, I get the feeling that deep down inside, they all still harbour their dreams, and I'm sure if the opportunity came, most of them will have no qualms about sailing off.

Some dreams are harboured, some dreams are chased and some dreams are lived. Isn't that what life's all about?
How'd ya dreaming? |
April 10, 2005, Sunday
I Had A Bad Week (Not) Again
Frus, frus frus.

This post would have gone up earlier if not for the fact that I spent countless hours trying to troubleshoot why my website wasn't updating correctly, only to find that the fault lied with my service provider who did some knn server migration without informing me!!!

WTF man.

By this time I am already in a very foul mood as earlier this week, one of my clients reneged on my payment terms. I accepted a big project last November which was supposed to be concluded in December. However, my client's other associates who were doing the books did a botched up job and caused the delay of the completion of the project.

When I took on the project, my client promised me that the books will be cleaned. I end up helping them clean their mess due to the supposed December deadline. The freaking project dragged on until last week.

When I finally delivered the project, my client tells me that he wants to hold payment until the fee is finalised by the customer. He had the nerve to tell me this after slashing our agreed price by 30% and making me do all those extra work.

WTF man!

Also this week, against my better judgement, I went and attend an exorbitantly priced seminar which confirmed my earlier misgivings about it. I wish I can let on more about it to release even more pent-up anger, but unfortunately I can't. So all I can say is :

WTF man!!

Remember my eye infection? I now have this cyst on my eyelid which the quack doctor say boh pian must operate. WTF?!! If need to operate why make me spend more $$$ on supposedly better mediciation earlier?

Thankfully, it seems there is some sunshine after the rain. Yes on a bright and sunny Sunday, things are finally looking up a bit.
Remember hor, this Wednesday got my televised wedding |
April 9, 2005, Saturday
Seeing Stars Part Deux
Never underestimate the power of television. Yesterday, while having breakfast, the kopi lady (this is a different one, not her) demanded to know if I was the one in the commercial below. Then, the wan ton seller, who I have been frequenting for the past four years, suddenly questioned me if I recently appeared on telly. Apparently my disguise had worked for four years. (To disguise myself as an unassuming heartlander, I wear very dorky spectacles and dress like a geek)

Note to self : Never order half-boiled eggs from this kopi lady.

And if I start to see additonal wan tons in my plate today, I think I may have to look for another breakfast place.
Wanna have breakfast together? Yes? Should I call or nudge you? |
April 5, Tuesday 2005
Oh, Lormeoh
I have just found out that my commercial is already running and despite my fears, I did not end up looking like a tired old bat. Here take a look for yourself :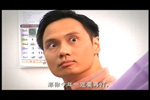 Not convinced? How about these :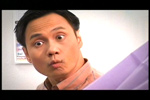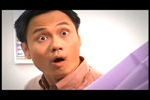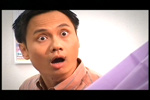 See, I can even do the "Blue Steel" look :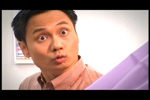 Tonight was my first screen appearance as a romantic interest :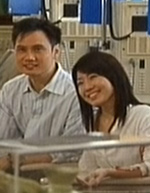 Screen shot from "A Life of Hope"
I play the boyfriend of a kidney patient who had been dumped previously by a fiancé coz he found out that she had kidney problems. So my character sort of "hero save beauty" lor, and wooed her despite her illness. However, they faced objection from his parents, but he heck care them and went ahead and marry her. So lomantic hor? Which reminds me, I think they will be showing the wedding next Wednesday.

I've also just received a press kit of my short film, where I play a Lormeoh of a different mien. You can take a look at the video stills here. Interesting eh? Yeah, I can't wait to see the finished product too.
Whereforth tao ah, Julie Yeh? |